Elder Mauzy is safe and is loving the opportunity to serve the people. He said the water was up to his chest and that they had to carry their church clothes over their heads and walk 2 hours to church. He has no electricity but he said he is still able to use their gas stove. The flooding hasn't stopped but we are so relieved to know he is safe! Below is more details on the flooding from CNN.

(CNN) -- The death toll from flooding in the Philippines climbed to 140 Monday as a tropical depression in the Pacific sparked new fears of flooding.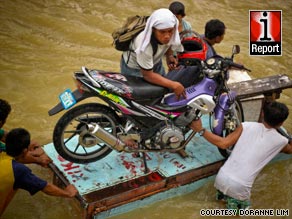 iReporter Doranne Lim captures the desperate measures some people are being forced to take.
Flood water began to subside after a weekend that saw Manila hit with its heaviest rainfall in more than 40 years.
More than 80 percent of the capital was under water at one point Sunday. The deluge caused by Tropical Storm Ketsana, which has since strengthened into a typhoon, engulfed whole houses and buses.
At least 140 people have died, the National Disaster Coordinating Council said. Are you there? Share your story or pictures
Manila, on the island of Luzon, and the nearby province of Rizal bore the brunt of the storm. People huddled on rooftops Sunday waiting on army helicopters to pluck them to safety. Others used ropes to wade through waist-deep muddy waters.
Power and water supply failed in some areas. Roads were rendered impassable, making rescue efforts challenging. Rescue crews were handing out food rations.

See incredible images of the flooding »